LOOKING TO STUDY ABROAD
WITH A SCHOLARSHIP?
You have been subscribed to our
newsletters. You will hear from us soon.
Sign up for a
FREE 10 minutes Consultation
Edward Consulting is changing the way
international students apply to
universities
IF YOU ARE GOING TO DO IT, GET IT RIGHT!
At Edward Consulting, we change and improve lives by helping people
from African and developing countries get admission and
scholarships to the best schools in the world!
Since 2019, Edward Consulting has positively impacted students from Africa
and developing countries seeking admission and scholarships into top universities overseas.
Our advice is personalized for you because one size does not fit all.
100+
Students Advised And Counseled
$1.1 million +
Secured In Scholarships
All thanks to Edward Consulting
I applied and secured admission in 3 top universities; the University of Sussex, University of Sheffield and University of Chicago, all thanks to Edward Consulting. They also supported me in securing a sizable amount of merit-based scholarship with the University of Chicago, and also secured a P.E.O International Peace scholarship. Edward Consulting provided wrap around technical support throughout my application process, they supported me in searching and identifying the best schools that suited my academic trust, ensured I submitted strong applications by reviewing and proofreading all my essays and statement of intents, visa interview preparation services and supported me in scholarship negotiation. As well as prepared me in writing and passing my IELTS in one sitting. They also helped me to improve my writing skills. This I am highly appreciative of.
Chinasa Ude
University of Chicago – Merit-Based Scholarship and PEO Scholarship
It was a different experience with Edward Consulting
I have had some bad experiences with educational agencies but it was a different experience with Edward Consulting because they were amazing. They were always available and willing to assist me and support me in giving my best to all of my applications. They made scholarship applications a priority. I got admission into all the 5 universities they worked on with me. Two great schools in the United States with partial scholarships and one offered me a 65% scholarship. In the United Kingdom, I got admission into top universities including the University of Edinburgh and the University of Bristol. I was so happy with their service that while working with them, I introduced two of my contacts to Edward Consulting and my dad also did the same thing.
Seun O.
I would whole-heartedly recommend Edward Consulting for anyone
"The team at Edward Consulting went beyond editing essays and selecting schools that soothe my portfolio and lifestyle. As I waited for schools to get back to me for interviews, there were times that the process was grueling mentally but each time, I found it easy to speak to any of the consultants who were there each time to listen to my frustrations, explain the process to me better, reassure me of my progress, and help me to see and approach the process better. I was waitlisted at a few medical schools and the team still worked with me after that to craft another letter that included my strengths and additional experiences. The impact of this letter led to the receipt of my admission two days after this letter was sent. As I write this, I am two weeks away from starting medical school with a Dean's Full Scholarship at Tulane University School of Medicine and I could not be happier about this. I would whole-heartedly recommend Edward Consulting for anyone involved in any university application process".
Uduak-Obong Ekanem
University School of Medicine – Dean's Full Scholarship
Thanks to Bimpe of Edward Consulting
With a fully-funded scholarship from Penn UNESCO and a fellowship award from P.E.O Peace International, I am well on my way to begin my graduate studies at an Ivy League University, the University of Pennsylvania. EC played a major role in preparing me adequately for the US Visa interview and was constantly there as a support system. Their support was also extended right to my first day of classes! Thanks to Bimpe of Edward Consulting for making my education dreams come true!
Odinaka Chukwu
University of Pennsylvania – Penn UNESCO and PEO Scholarship
I was extremely grateful to Edward Consulting for making my dream a reality.
Edward Consulting helped me to secure admission to Duke University, with a fully-funded scholarship from Rotary Peace Fellowship that provides funding for tuition, living allowance, internship opportunity, conferences, research, and a round-trip ticket. It's been more than 4 years since a Nigerian has received the Rotary Peace Fellowship and Edward Consulting made it possible. They also helped me secure my US Visa. I was extremely grateful to Edward Consulting for making my dream a reality.
Peter Adeyeye
Duke University – Rotary Peace Fellowship
Thanks to Edward Consulting and Bimpe's assistance.
Out of all the schools my son applied to, the only school that gave him admission was New Jersey Institute of Technology (NJIT) which was the school Bimpe of Edward Consulting had advised us to apply to last minute before the deadline. Through the guidance of Bimpe, my son Ifechukwu also secured a $20,000 scholarship per year to study Computer Science at NJIT. This meant he got an $80,000 scholarship towards his 4-year undergraduate degree. Again, Bimpe worked with us to negotiate his scholarship and it was increased from $20,000 to $24,000 per year. This meant his total scholarship was no longer $80,000 but now $96,000 for his program which is the highest amount available to an international undergraduate student at NJIT. Ifechukwu was able to secure this thanks to Edward Consulting and Bimpe's assistance.
Ifeoma Agbasi Mother to Ifechukwu Joshua Agbasi
NJIT with a $96,000 scholarship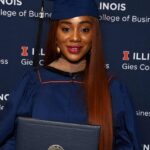 Working with Bimpe was an amazing experience.
Working with Bimpe was an amazing experience and I would say what I love most about working with her was how involved she was from the beginning till the end, by 'the end', I mean graduation. Her job did not stop at getting my admissions. For my F-1 visa application process, Bimpe took on the role of a "travel agent". When I finally began my MBA program at the University of Illinois at Urbana-Champaign, Bimpe of Edward Consulting was a constant resource when I needed advice about certain situations. I would consult her for my job search, cover letter, and anything I needed a better perspective on. I graduated with a job offer at Microsoft and I would love to say that my success story will not be complete without mentioning Bimpe and her influence.
Yewande Olusanya
University of Illinois at Urbana-Champaign
SCHOOLS CLIENTS WERE ADMITTED INTO